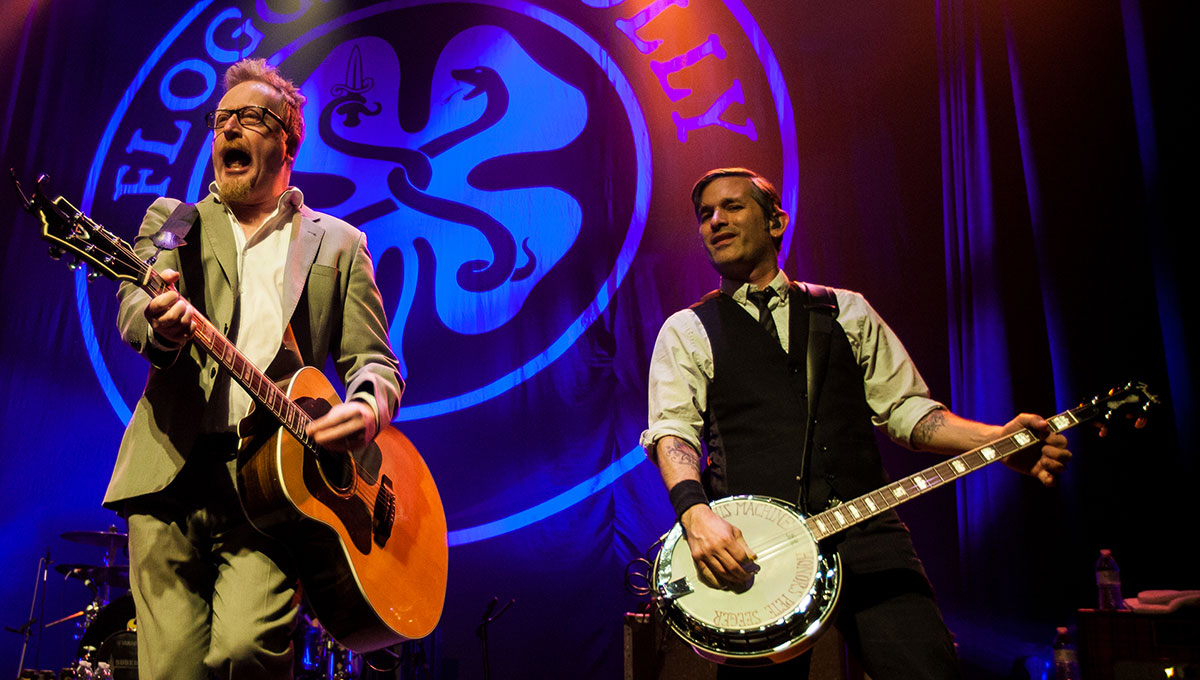 Flogging Molly
Egyptian Room at Old National Centre
March 7, 2014
Indianapolis, Indiana
Reviewed by Rene Hatcher Fox
Irish punk band, Flogging Molly, brought the Green 17 tour to town on March 7, playing Old National Centre's Egyptian Room to a near sold out crowd. The tour is the band's official countdown to St Patty's Day and for this city the first knot in the Irish Trinity (with St Patty's Day and Irish Fest later this summer making up the other two knots).
The all ages crowd was highly responsive to the band's energy. Irish music, both traditional and punk rock styles, make you want to move. The crowd was bouncing to the rhythms, singing along, crowd surfing and clearly enjoying the band's mix of older and recent material. Songs included Requiem For a Dying Song; Saints and Sinners; Whistles the Wind (dedicated to Badger the guitar tech); Us of Lesser Gods (dedicated to Vladimir Putin); Life in a Tenement Square; Drunken Lullabies; and The Sun Never Shines (On Closed Doors) (dedicated to Dave King's 92year old, Jameson drinking, chain smoking mother back in Dublin). Flogging Molly invited local band, LockStep to start the night of music. The band brought a small fan base with them and gave a solid performance, reminding the audience to support local music. They specifically pointed out the Hoosier Dome venue in Historic Fountain Square and Punk Rock Night as examples of places to offer that support.
The Drowning Men was the second act on the bill. The Oceanside, CA band has supported Flogging Molly on a couple of previous tours. The band's performance was mildly received but the audience warmed up to them about halfway through their set.
Flogging Molly
Flogging Molly
Flogging Molly
Flogging Molly
Flogging Molly
Flogging Molly
Flogging Molly
Flogging Molly
Flogging Molly
Flogging Molly
Flogging Molly
Flogging Molly