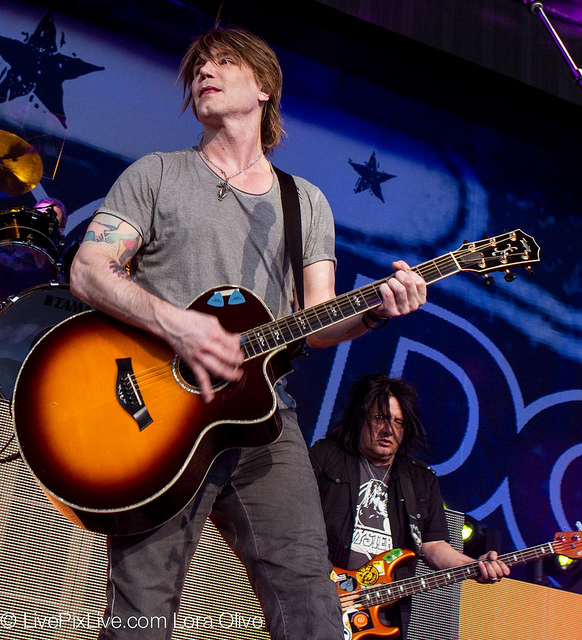 Goo Goo Dolls
Klipsch Music Center
Indianapolis, Indiana
July 7, 2013
About Goo Goo Dolls
After more than two decades as a band, with nine albums, a catalog of songs that have become ingrained in the pop consciousness and countless concerts for millions of fans, the Goo Goo Dolls are feeling particularly good about their new album: Magnetic.
More to the point, the Goo Goo Dolls are feeling particularly good. Period.
"This album was really upbeat and fun," says John Rzeznik, the trio's primary singer, songwriter and guitarist since it was founded in Buffalo in 1986. "I don't think we've made a record like this in a while. Just had a great time doing it."
It's a great time overall for the musicians. Bassist Robby Takac, whose partnership with Rzeznik has been the band's foundation since the start, and his wife have just had their first child. And Rzeznik is getting married this summer.
Not to mention that recently three of the band's songs placed in Billboard's Top 100 of 1992-2012, with "Iris" standing at No. 1. That song has also connected with a new generation, as Dolls fan Taylor Swift has been performing it in her concerts.
That joy is all there in the spirit of the 11 new songs on the album, for which Rzeznik, Takac and drummer Mike Malinin — the lineup steady since 1995 — recorded in New York, London and Los Angeles with Gregg Wattenberg (Train), Rob Cavallo (Green Day), John Shanks (Bon Jovi) and Greg Wells (Katy Perry). From the celebratory single "Rebel Beat" to the love-rediscovery ballad "Slow It Down," from the blue-collar anthem "Keep the Car Running" to the meltingly romantic "Come to Me," Magnetic is an album bursting with a spirit of renewal. And nowhere is it more explicit than in one of two Takac-penned songs: "Happiest of Days."
Goo Goo Dolls
Goo Goo Dolls
Goo Goo Dolls
Goo Goo Dolls
Goo Goo Dolls
Goo Goo Dolls
Goo Goo Dolls
Goo Goo Dolls
Goo Goo Dolls
Goo Goo Dolls
Goo Goo Dolls
Goo Goo Dolls
Goo Goo Dolls
Goo Goo Dolls
Goo Goo Dolls
Goo Goo Dolls