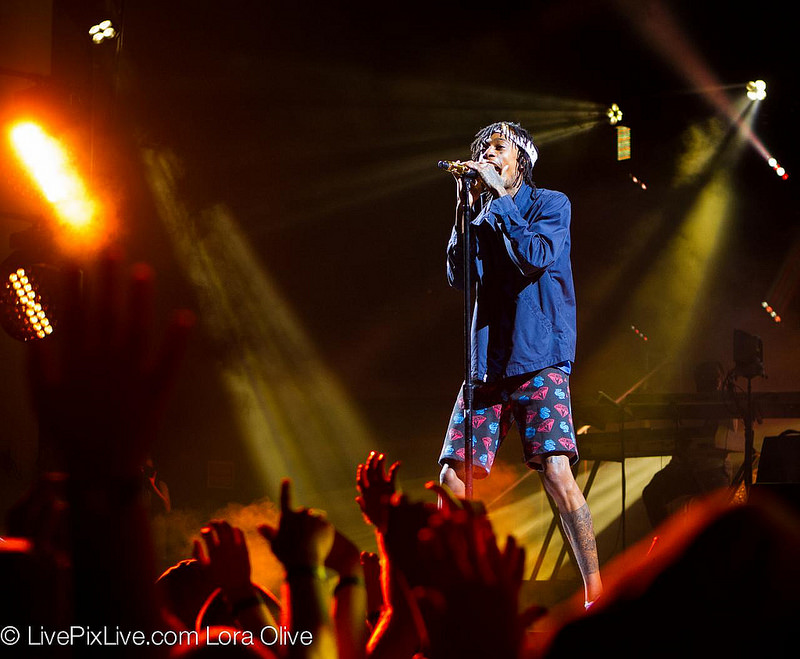 Wiz Khalifa and Young Jeezy
by Francesca Woodman a student at Cathedral High School
Written August 10, 2014
When Wiz Khalifa stated that he'd hope his Under the Influence tour
would be one to remember, he wasn't kidding. Packed with fan
favorites, new tracks, and few other surprises along the way, he
managed to let his promise ring true. Preceding Khalifa's appearance
on the Klipsh stage in Noblesville, several other familiar faces
played including Tyga, Young Jeezy, and Sage the Gemini. These
performers' talents and the hazy atmosphere acted as a fire-starter
for the rest of the show, preparing the crowd for Wiz. Fans enjoyed
popular songs from Wiz such as Work Hard, Play Hard, No Sleep, Taylor
Gang, and Young, Wild, and Free. Strategically placed between hits,
Wiz performed a few tracks from his newest album, Blacc Hollywood, set
to be released this August, the 19th. One of the most memorable songs
was probably 23, which Wiz recorded in 2013 with phenomenons, Miley
Cyrus and Juicy J.
Throughout the show, the members of the lawn crowd looked on with envy
at the fans raging in the pit of the Pavilion. In order to give them
a taste of the fun, and being the risk taker he is, Wiz sang a few
songs on a platform toward the back of the pavilion where the lawn and
stadium are separated. Once done, he free fell backwards and trusted
his fans to crowd surf him back to the stage for the final song.To
close the show, or party rather, Khalifa belted to his song We Dem
Boyz and thanked Indiana for the great night. Indiana thanks him back.
Wiz Khalifa with Young Jeezy
Wiz Khalifa with Young Jeezy
Wiz Khalifa with Young Jeezy
Wiz Khalifa with Young Jeezy
Wiz Khalifa with Young Jeezy
Wiz Khalifa with Young Jeezy
Wiz Khalifa with Young Jeezy
Wiz Khalifa with Young Jeezy
Wiz Khalifa with Young Jeezy
Wiz Khalifa with Young Jeezy
Wiz Khalifa with Young Jeezy
Wiz Khalifa with Young Jeezy
Wiz Khalifa with Young Jeezy
Wiz Khalifa with Young Jeezy
Wiz Khalifa with Young Jeezy
Wiz Khalifa with Young Jeezy
Wiz Khalifa with Young Jeezy
Wiz Khalifa with Young Jeezy
Wiz Khalifa with Young Jeezy
Wiz Khalifa with Young Jeezy
Wiz Khalifa with Young Jeezy
Wiz Khalifa with Young Jeezy